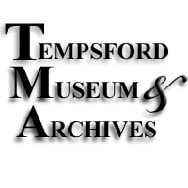 Tempsford Museum & Archives is housed in the old Gentlemen's or Snooker Room at the northern end of the Hall. It was opened in 2013 and houses a vast collection of memorabilia, artefacts, deeds, estate maps, newspaper articles, family papers, photographs and books associated with Tempsford.
The Museum is run by its own Board of Trustees and has its own website at http://www.tempsfordmuseum.co.uk
It is open on the first Sunday of every month (except January) at 2pm.